Manufacturer:
Hebi Huaxia Auxiliary Co.,LTD
Classification:Thiurams Accelerator
Chemical name:Tetrabenzylthiuram disulfide
Molecular formula:C30H28S4N2
Cas No.: 10591-85-2
Executing Standard: Q/HBHX-0405
Chemical Structure: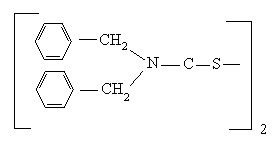 Index Name

Unit

Index

Powder

Oiled powder

Appearance

-

Light yellow

Initial melting point

℃ ≥

124.0

124.0

Loss on heating

% ≤

0.40

0.40

Ash content

% ≤

0.30

0.30

Residue on sieve (100meshes)

% ≤

0.10

0.10

Oil content

%

/

1-2
Application: TBzTD can be used as primary or secondary accelerator for NR, SBR and NBR. Offer better scorch safety compared to TMTD. Developed to replace thiurams such as TMTD. The dibenzylnitroamine is not carcinoge.
Storage: To keep the bags tightly closed in a cool, well-ventilated place at 25℃ max, to place the goods on the dry wooden shelf at a height of 20cm min. And to avoid from moisture, sunshine, light and fires. The recommended max.shelf life is one year.
Package: 25kg or 20kf paper bag or PP weaved bag lined with plastic bag. Or to be packed as required.