Manufacturer:Hebi Huaxia Auxiliary Co.,LTD
Classification:Thiurams Accelerator
Chemical name: Tetramethylthiuram Monosulfide
Molecular formula: C6H12N2S3
Cas No.: 97-74-5
Executing Standard: Q/HBHX-0403
Chemical Structure: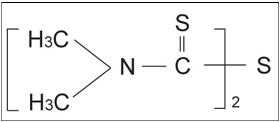 Specification:
Index Name

Unit

Index

Powder

Oiled powder

Granule

Appearance

-

Yellow

Initial melting point

℃ ≥

104.0

104.0

Loss on heating

% ≤

0.40

0.40

Ash content

% ≤

0.40

0.40

Residue on sieve (100meshes)

% ≤

0.10

0.10

/

Oil content

%

/

1-2

/
Application: It is high-speed accelerator without color change and pollution in rubber materials. Suitable forrubber cables, tires, inner tubes, rubber belts, footwear, heatproof rubber products and so on.
Storage: To keep the bags tightly closed in a cool, well-ventilated place at 25℃ max, to place the goods on the dry wooden shelf at a height of 20cm min. And to avoid from moisture, sunshine, light and fires. The recommended max.shelf life is two years.
Package: 25kg paper bag or PP weaved bag lined with plastic bag. Or to be packed as required.